We live in multi-lingual world.  Now, more than ever, learning a foreign language is very important.  While Bookworm is learning Latin, I also wanted him to learn a language that he can use every day–Spanish.  I was delighted to be offered the opportunity to try an online course from
Middlebury Interactive Languages
. We tried
Spanish Courses
, specifically, Middle School Spanish 1.  In exchange for our review, we were given 6 months' access (one semester).
About Middlebury Interactive Languages
Middlebury Interactive Languages offers a variety of languages to study:
Spanish
French
German
Chinese
Middlebury Interactive Languages offers elementary, middle school, high school, and AP language courses.  The course Bookworm tried out costs $119 per semester.
At Middlebury Interactive Languages, you can choose to take the course online without the teacher (which is what we did), or with the teacher (the price is then $175 per semester).
To use Middlebury Interactive Languages on a PC, your computer will need to meet the following requirements:
2.33GHz or faster x86-compatible processor
Windows 7, Windows 8
2 GB RAM
Display setting 1280×1024 resolution or above; lower resolutions may require scrolling
128MB Graphics Memory & Sound card
Google Chrome 6.0+, Mozilla Firefox 4.0+, Safari 5.0+, Internet Explorer 9+
Adobe Flash Player plug-in 10.1+ (Go to www.adobe.com)
Cookies enabled
Javascript enabled
Headset/Microphone
To learn about the requirements for a Mac, Notebook, or iPad, go here.
The Format of Middle School Spanish I
Middle School Spanish I has 9 units per semester.  For each semester, there is a midterm after the 4th unit, and a final exam at the end of the semester.
Each lesson has a speaking lab, so the student will need a computer that allows him to record himself saying Spanish words.  This must be done to get credit for the lesson.  While Bookworm found this to be a bit awkward, it did help him hear how he sounded when he said the words.
In addition, there are a variety of activities in each lesson that range from filling in the words to a conversation (complete with the correct accent marks using special commands on the computer), to listening to dialogue being spoken, to doing matching exercises, to writing.
One of the activities I appreciated most was one that asked students to write in English what career they'd like to pursue and how learning Spanish could help them in that career.  Before this activity, Bookworm had been complaining that he didn't need to know Spanish.  However, he's interested in a career in politics.  After doing this writing activity, he suddenly understood how important learning Spanish can be.
Our Experience Using Middlebury Interactive Languages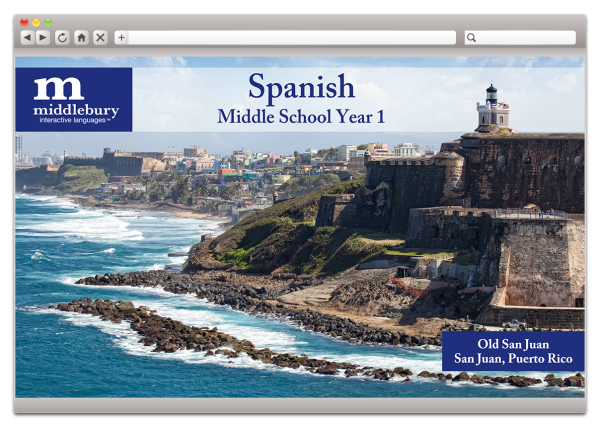 Bookworm isn't completely new to learning languages.  He attended a Japanese immersion preschool.  He's currently studying Latin.  He had Spanish classes a few times a week when he was in early elementary and going to a parochial school.  Taking middle school Spanish shouldn't be a big deal, right?
Wrong.
Bookworm is a smart kid who grasps most subjects quite easily.  He loves to learn, probably in part because learning comes easily to him.  But Spanish, this didn't come easy to him.  He didn't quite understand how much time he would have to take reviewing words and alphabet names.  He was challenged, and as a result, he shut down more than a few times.
While I had expected to get a lesson done a day, Bookworm's pace was more like one lesson every 3 to 4 days.  During our review period, Bookworm was able to complete all 10 lessons of Unit One, and the first two lessons of Unit Two.
What We Liked about Middlebury Interactive Languages
Most of the assignments are automatically graded, which makes the course easy on parents, especially if the parents have not studied the language before.  There is a grade book feature that keeps track of all of the student's grades.
While the background of the program is plain, the program itself is very visual.  Every slide had a picture or was a video presentation, both of which Bookworm enjoyed and appreciated.
In addition, he liked the  audio component, both hearing native speakers talking and pronouncing words and recording himself speaking Spanish.
I appreciated that the program helped students realize how learning another language could benefit them.
What We Disliked about Middlebury Interactive Languages
Bookworm wanted more opportunity to review what he had previously learned.  You can go back to any lesson and review it, but he wanted the review material from previous lessons incorporated in each new lesson.
Both of us found the format of finding the current lesson a bit confusing.  You can either click on the corner icon and choose Table of Contents, or you can click on Calendar.  We preferred clicking on Calendar, but because Bookworm got behind in his assignments, we always had to go back to August.  Bookworm found that discouraging.  Each lesson that is completed has a check mark next to it, which is nice.
Finally, Bookworm is a visual learner so he really wanted some kind of book or flashcards to look at and review what he had learned.
I was one of 95 reviews.  Others reviewed other languages and other levels.  To read their reviews, click on the link below.